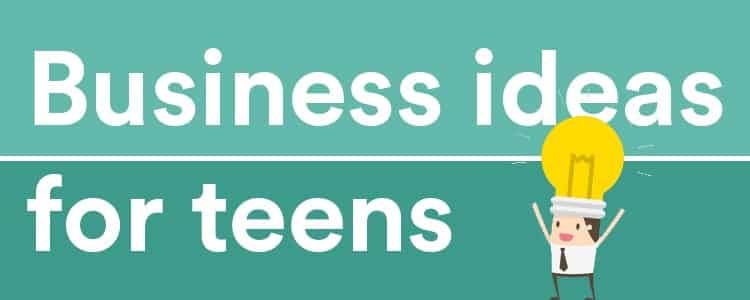 Top 10 Easiest Business Ideas for Teens:
Tutoring Online
Providing Design Services via Upwork and Fiverr
Selling Hand Made Products via Etsy
Managing Ads for Small Businesses on Facebook and Tiktok
Become a Youtuber and Vlogger
Work as a Freelance Copywriter or Designer
and many more we discuss in the post below.
2020 and 2021 brought a lot of instability into the world. A lot of shops, businesses, and factories closed due to the global pandemic. In turn, a record number of people lost their jobs overnight. Those who lost their jobs have some experience in their respected field. They will sooner get a new job than those who are newcomers. This is especially important to teenagers. They are probably fresh out of school or still studying. Their job opportunities are limited even in the best of times.
This is why teens, now, more than ever need to put their fate into their own hands. You dont have to be an adult to start your own business. There are plenty of small business opportunities teens can try out and dip their feet into the world of entrepreneurship.
Teenagers on average are always up to the modern trends and are proficient users of the internet. These are some of the best business Ideas For Teens can help them a lot with a whole variety of business opportunities that the older generations have a tough time following. In turn, they are mostly limited by time (for students) and money. So, here we gathered some of the best business ideas that teens can use to start their small businesses. These good business ideas for teenagers dont require a lot of capital or time, so it is great for most if not all.
So if you are looking for how to make money as a teen, you're going to love the gems in this article!
---
1. Tutoring Online via Skype, Zoom, Facebook, and Other Social Media & Chat platforms
Tutoring is a tried and true small business idea online that many teens should try during their teenage years. Everyone has some unique skill. Those skills of course vary in how useful they are, but the more useful they are the more people will be interested in tutoring in these skills.
This way, musically gifted teens, teach their students how to play instruments or music theory. Those gifted in art can teach drawing or creating art pieces to people. Some are gifted in math, science, writing, or other school subjects. These teens can become academic tutors and teach their skills to younger teens or kids that might need them. This is especially popular with test preparing for SATs, ACTs, and other standardized tests.
Watch this video from Shawn Esquivel where he explains how to easily make a few hundred bucks per day tutoring online as a side gig (when you are a teen)
---
2. Programming and Computer Skills Tutoring
Teaching People How to Code / Programming Lessons & Tutorials Live
Programming is hailed by a lot of people as the ultimate job of the future. The wages are incredibly good, the work conditions excellent, and workers are usually very satisfied. Sadly this job isnt for everyone. It takes a lot of natural intelligence, studying, practice, and enthusiasm to become proficient at it. 
Those who have these traits can have incredible successes with businesses that revolve around programming. Some of the greatest companies today started as programming startups!
A great way to start is to cover some courses on Udemy and find work on online platforms like Upwork. 
Tutoring Basic Computer Skills Like Excel, Microsoft Word, Photoshop, Email, etc.
If you like the area but you arent quite on a programming star level of knowledge, you can start as a computer tutor. As a computer tutor, you can teach kids and adults the basics of using the computer. And if you are skilled enough you can also teach them some advanced tricks as well. 
This business idea for teens can be started easily by visiting a public library or community center and finding people for a tutoring class. You can also distribute flyers to people who might need help with computers, like seniors.
---
3. Design Services Sold via Fiverr, Upwork, and Other Freelancer Sites
If you are creative and good with computers, design is probably something you find yourself doing often. Design is a broad category, there are graphic designers, web designers, and a bunch of other designers. But for this article, lets focus on the first two. 
If you have some design skills, a great business idea can be to start working with clients on logos or branding elements. If you have a knack for coding as well, you can try out doing web design. Work for these businesses can be found easily on the internet. Sites like Upwork, Fiverr, and others have thousands of listings for jobs just like these.
You never know where this can take you. Design can be a very profitable business venture for teenagers. And it can easily lead to a successful career in the industry as well. This is one of the easiest business ideas for teens to get started in, if you have a creative bone in your body that is.
Another reason working as a freelancer is great is because it's one of the best businesses that you can start with little to no money that will put money into your pocket with minimum risk. Again, it depends on your skills so we highly recommend watching Youtube videos and taking short, few hour long courses on sites like Skillshare and Udemy.
Here's a great video to watch on How to Make Money as a Designer on Fiverr by Nick Newsome!
---
4. Become Etsy Retailer and Sell Your Creative Products Or Print-on-Demand Items
Etsy is growing in popularity each day. The platform is constantly evolving and bringing more and more unique things to buy.  If you are a crafty and creative individual that likes creating interesting items. Etsy might be the perfect platform for you!
To start, fight your niche (art, jewelry, clothing, etc) and start creating and selling your creations. Be creative and unique and focus on quality. There are a lot of people who earn a living by doing this, so why wouldnt you as well!
When it comes to business ideas for teens, this one is quite appealing to the ladies as more and more women sell their wares on Etsy.com that they make by hand. And you know what? The audience really, really loves high quality hand made stuff on Etsy. So it's great business idea to consider if you are crafty or love to create unique things.
Linh Truong did an insane job explaining how she started an Etsy store making thousands of dollars per month as a side gig. Check it out
---
5. Social Media Consultant for Facebook, Instagram, Twitter, Pinterest, TikTok, and More.
Todays teens are growing up in the age of the internet. For this reason, they usually have an advantage compared to older people in the fields related to the worldwide web. Social media and platforms like them come naturally to the teens, while the older generations have to learn them from the ground up. For these reasons, experts in the field of social media are usually much younger than in other industries. 
Social media platforms like Instagram, Twitter, Snapchat, and Facebook are dominated by ads. If companies want to make their ads work on these platforms they need people who know how the platforms work. This is where you can come in. 
Companies are willing to pay top dollars for experts in the field. So if you are great at managing and engaging on social media. This might be the perfect teenager business for you!  It's quite easy to learn how to manage and create engaging social media content (you might already have some great ideas). This top business idea for teens is great if you either love to be organized and could see yourself organizing posts and content on a business' Facebook page or Instagram profile, or coming up with new content and creative ideas that will get them more customers & clients. You can usually get clients via freelancing sites like Upwork, Fiverr and PeoplePerHour for this.
Udemy and SkillShare offer great tutorial on social media marketing and management if you want to brush up on some skills, start there.
---
6. Become a YouTuber and Make Money Vlogging or Running A Youtube Channel
One of the most popular businesses teens get into these days is YouTube. This online platform offers a lot of people to create videos and gain a following there as well as a living off of it. Starting is free and easy but getting popularity is anything but. 
The competition is incredible. There are hundreds of thousands of competing creators fighting for the same audience. 
To make it here, you should try finding a less popular niche and focus on it and grow accordingly. If you can pull it off properly you can gain a lot of views and subscribers and start earning money. 
The ease of starting, and profit potential means that YouTube is one of the best business ideas for teens there is today.
One of my favorite channels that I subscribe to and have the bell icon turned ON for is Bright Side. They made a great video on How To Earn Money On Youtube: 6 Tips for Teens That Are Looking To Make Some Extra Cash. Watch it!
---
7. Gaming and Live Streaming via Twitch, YouTube & Facebook Live
Teenagers and gaming go hand in hand. The video game industry has grown incredibly throughout the past two decades. The once niche thing that only nerds did spread to the masses. Video games are probably the biggest entertainment industry in the world at the moment. The profits are insane and its just keeping on growing and growing. This is what makes gaming such a good business idea for teens in 2021. 
Getting good at games can lead to incredible profits. Esports is an incredible way to make great sums of money if you are good at what you are doing. Getting this good at video games requires years of constant playing. And even with a lot of practice, not everyone will become an e-athlete. 
This is where game streaming comes in. Platforms like Twitch, Facebook, and Youtube offer people to stream themselves playing games. The people usually called streamers are mostly younger people. Some of the most popular ones are making millions a month by ads, donations, and subscriptions. If you are not comfortable with playing live, you can also record yourself and post it to platforms like youtube. 
There is a lot of competition in the space, so not everyone will make it. Only the most interesting gamers will make it to the top in live streaming and content creation, so practice your social skills!
Pokimane did an awesome job creating a Youtube video that talks about the top 5 tips you need to do as a teen to earn money on Twitch.
---
8. Become a Blogger Using WordPress, Blogger, or Other Free Blogging Platforms
If you have a skill for writing about interesting topics and a passion for certain niches, blogging might be a great business idea for you!
Blogging is all about being patient and consistent. Your blog needs new posts all the time and they need to be high quality and interesting to read. To turn any profits, you will have to work hard and long. You need to gain an audience and then partner with sponsors and earn through ads. This might take months or even years to realize, so stay consistent and optimistic
Top Resources Where You Can Start a Blog For Free
And of course, you can always get a web host, buy a domain and then install the #1 blogging platform WordPress on it.
My buddy Neil Patel published a kick ass video many years ago that still holds true. These are some of the best tips I've followed to build this blog into a $xxx,xxx per year business. What Will You Learn From Watching? His 8 Steps to Making Your Blog Successful! Check it out..
---
9. Freelance Writing, Working as a Creative Copywriter On a Per Word Basis
Freelance writing is something a lot of teens decide to do. There is an ever-growing need on the market for this job. Hyperproduction of content that is happening on the internet means that there is a lot of writing to be done. 
Getting into this business is easy. You need a computer and an internet connection. Thats it! To start working with the better-paying customers, you will have to build a portfolio, but its nothing too complicated! If done correctly, this can be one of the best business ideas for teens all around the world that speak English.
Great sites where you can start right away and earn money as a freelance copywriter:
Mike Nardi does a great job explaining how you can go from having no experience to making over $3000 per month working when you want, where you want. That's why I believe this is perfect for teens too, since as a student priorities don't allow for full time work. Heck, I started with $0 and built a multi million dollar based on my copywriting service, I had no experience just got into it. Watch his video to get some of the best tips (I can tell you they are exactly what I did as well).
---
10. Affiliate Marketing using SEO or Paid Advertising
The idea behind affiliate marketing is to promote other peoples products. This is often done through an affiliate network. If your promotions manage to sell that product, you will get a commission off the sale. 
Affiliate marketing has grown incredibly in the last few years. Its not expensive to start, and the top dogs earn millions in profit each year. This is the ultimate business idea for teens if they manage to pull it off. 
Getting started can be quite difficult. So it is recommended to research a lot on the topic before starting. You can try forums like iAmAffiliate, where there are a lot of pros ready to help newcomers. If you dont know about affiliate marketing, but want to learn, check out from Zero to Super Affiliate book on Amazon. It teaches all the basics a teen needs to get started in the exciting world of affiliate marketing using paid advertising (PPC ads).
My friend Joey Babineau made a video explaining how you can use paid ads to promote cost-per-acquisition (CPA) offers. Watch it, this guy is legit and not a fake guru looking to sell you a BS course on stuff that's outdated.
---
Now Is The Right Time to Get Started! Teens Have Major Advantage and Opportunity To Make Money Online so if you are a parent, encourage yours to take action!
If you are a teen whos looking to make some money on the side or start a successful career, you can achieve this through the above business ideas for teens. These are some of the best business ideas for teens in 2021, but they are not the only ideas. There are a lot of businesses that we didnt cover in this article but that is profitable and easy to get into. 
The most important thing you need to remember for any of these businesses is that you need to work hard and stay consistent and TAKE ACTION. 
If you are new to an industry, try searching for help online. If you want to start affiliate marketing, join a forum and read through a couple of blogs. If you want to program, check out a few courses on Udemy. Do whatever you can to improve and be more competitive in the market. 
The most important characteristics you'll need to succeed are dedication and enthusiasm. Although you may not achieve the immediate success you crave, you'll gain new skills and experiences that will be invaluable in the long run. 
Have you started a small business? What are your business ideas? What advice do you have for teenagers starting a new business? Share your opinions with us in the comments if you are up for it and help our teenage readers!