Side Hustles
Is FBA Academy Worth Your Time and Money? [David Zaleski]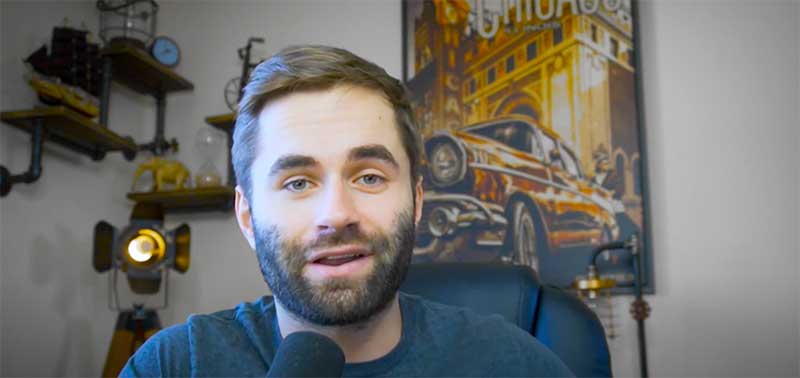 Amazon FBA remains one of the most popular online business models that many people want to learn how to do. Fortunately, there are courses like FBA Academy that make it easier to start this type of business.
There are a lot of FBA courses out there that make it difficult to decide which to choose from. I wanted to write up this FBA Academy review so that I could get a better understanding of what it's all about.
I'm Eartha, the author of this blog and a full-time affiliate marketer. I like to seek out different products and courses related to running an online business.
Many of these courses cost well over $1,000 and there is no way to know if they are what you need until you buy them. There are usually no free trials and the refund policies often have conditions you must meet.
I like to do as much research as I can before deciding to invest in a product or training program. I've got a lot better at determining when a product is a scam or legit.
Let's get into learning more about FBA Academy.
Product Name: FBA Academy
Product Creator: David Zaleski
Product Price: $4,997 (estimate)
Niche: Amazon FBA
NEXT: How I Quit an Exhausting Retail Job Using a Simple Website
What is FBA Academy?
The FBA Academy is an online training course and coaching program created by David Zaleski, a successful Amazon FBA seller.
It teaches anyone how to launch their own private label products to sell on the Amazon.com website using the fulfillment by Amazon service.
Once you have your product to sell, you ship your inventory to an Amazon fulfillment center. Amazon stores your products and ships them to your customers each time you receive an order.
While it sounds like an awesome business model, it isn't necessarily one of the easiest to set up. It can be overwhelming and confusing for many beginners.
Thankfully, courses like FBA Academy make the process simple.
When you sign up for the academy, you'll get access to the core training which includes 7-hours worth of videos as well as personal and group coaching.
Group coaching will include live calls with David, his team, mentors, and special guests.
FBA Academy is great if you're wanting to have guidance as well as personal help along your journey of having an Amazon FBA business.
The fact of the matter is that launching an FBA business is hard. You could gather all of the information for free by watching a ton of YouTube videos.
However, it is time-consuming and you may never get your business going from information overload.
It is always convenient to have everything that you need in one place as well as have a community of people that you can reach out to for help.
I think many people underestimate the value of a good training program due to the expense.
However, a good training program can take you from zero to success if you follow what is taught and put in the work that is required.
Who is FBA Academy For?
This training and coaching program is for anyone struggling to get their FBA business off the ground or are starting from scratch and need guidance.
If you feel like you're stuck, can't get started, need a mentor, or suffer from information overload, this training is likely for you.
The team at FBA Academy focuses on coaching, managing results, and scaling your business.
There are a lot of bits and pieces to starting and operating an Amazon FBA business. Everything from choosing a good product to getting your products clicked on.
Yes, Amazon has a large customer base but there are a lot of products to compete with in any one category.
Nowadays, you also have to be well-versed in using Amazon's paid ads to get your products at the top of the search results.
Not to mention getting your customers to leave user reviews. After all, reviews are one of the key factors when people decided to buy a product.
If you find yourself needing help, you're likely a good candidate for a course like this.
Who FBA Academy is Not For
Having a blueprint to follow is awesome. However, if you have the wrong mindset about running an FBA business, you'll be wasting your time and money.
This business is going to require a lot of work and money upfront. Even with the training, it is your responsibility to find your product and set up the shipping from the manufacturer to an Amazon fulfillment center.
You'll have to set up your LLC, pay for inventory, pay Amazon fees, set up your product pages, and likely run PPC ads on Amazon to get your product noticed.
If you think that this is a really easy business model, it is not. You'll need to be certain that you have the budget and work ethic to make your business work.
Unless you choose the Done For You option offered on EcomHub, you are responsible for completing the training and launching and growing your business.
Who is David Zaleski?
You may have come across David Zaleski on YouTube. He is a 7-figure Amazon seller and the CEO of EcomHub.
He began his online selling journey at 14 years of age when he began selling items on eBay. As he became successful selling on eBay, he decided to make the switch to Amazon as it was becoming the top eCommerce platform in the world.
At the age of 18, he had $4,800 to start his Amazon business and grew it to $9 million in sales over six years.
Initially, he struggled to make his business work on Amazon but eventually figured out the formula. Basically, he had to learn everything the hard way.
David created EcomHub to help teach others how to launch and scale an Amazon FBA business. EcomHub offers the FBA Academy as well as various services pertaining to operating an FBA business.
You can also find David on his YouTube channel and Podcast.
What is Included Inside FBA Academy
The main course provides you with the core training of 7-hours of video, plus group coaching. In total it includes:
4-Step Online Academy 2.0
5 Weekly Group Coaching Calls
FBA Academy Alliance
Product Validation
Unlimited Support
Rank & Bank
Budget Spreadsheet
Exclusive Resource List
There is also a Done For You service that offers some extras such as:
LLC & EIN Setup
Winning Product Automation
Sourcing Supplier Solution
Hyper Converting Listing
Video & Photo Creatives
Branding & Packaging
One-on-One Mentorship
Bonuses include:
PPC Spyder Launch
Group Coaching Calls
Tested Spreadsheets & Templates
FBA Academy Price
The price of the training is not readily displayed on the website. You have to book a call for that. Usually, when a product is high-ticket, companies utilize a phone call to help close sales.
However, I did search around a bit and found a price of $4,997. I would say this is an estimate because pricing can change.
I don't doubt that the price for the training is in the high four-figures. Therefore, if you are interested in this course, keep that in mind should you book a phone call.
When it comes to starting an Amazon FBA business, you'll need several thousand dollars to start. That will be on top of what the course costs.
You may be looking at around $8K to $9K altogether (training and startup costs for buying inventory, etc.)
EcomHub Services
If you take a look around the EcomHub website, you'll notice that they offer a wide range of services to help run an FBA business.
These services include:
Amazon product photography
Product video ads
3D renders
Infographics
A+ content / EBC
Amazon storefront
Logo & packaging
Inserts
Keyword research & copywriting
Bookkeeping & accounting
What is the Seller Startup Studio
Another cool option on the EcomHub website is to invest in an Amazon business. It is a hands-off process.
The way it works is that you cover the startup costs and business costs of launching an Amazon FBA business. Next, you pay EcomHub for the Seller Startup Studio services.
EcomHub takes care of all the details for launching and operating a new FBA business. This includes everything like sourcing the products, coordinating shipping with an agent in China and 3PL, graphic design, photography, customs, PPC, split-testing, and more.
You gain a fully automated business built and run for you. You'll have a monthly revenue from your investment and you have the option to sell the business in the future.
What Others Say About FBA Academy
EcomHub has a 4.92 out of 5 rating on the BBB.org website. A majority of the negative reviews were addressed by the company.
Many of the complaints had to do with customers not understanding the work involved or the additional costs needed to launch an Amazon FBA business.
However, the company addresses the complaints and even states that refunds were issued.
That demonstrates to me that the company is legit. I'm always skeptical about these types of courses. When you've run into so many other scam products, it is refreshing to find a good product like this one.
Does FBA Academy Have a Refund Policy?
Yes, FBA Academy does have a refund policy. It is a 30-day refund policy. However, it states on the website that if you implement the system and do not get any results, they will issue a full refund within 30 days.
What I Like About FBA Academy
After digging a little deeper into this, I have to say that I like what FBA Academy has to offer. David Zaleski has accomplished amazing results and has years of experience.
If you are serious about starting an Amazon FBA business, this is a training program to consider. It will take a lot of work but with everything that they provide, it should be a lot easier than starting by yourself.
I also like that you have the option to invest in a business rather than operating one yourself. The cost to invest is likely high. I don't want to speculate what it would cost.
However, it is a great option for those that have the money to do so. Imagine having a lucrative Amazon FBA business that you never have to worry about running.
Overall, I think this course is worthwhile and one to consider if you are shopping around for good FBA training.
How I Make a Steady Income Online
Running an Amazon FBA business is not for everyone. It requires a lot of work to set up and you need several thousand dollars to get it going.
Fortunately, there are a variety of online business models to choose from that can offer a steady income online.
The business model I chose is called affiliate marketing. It is very different than running an FBA business.
Affiliate marketing is the promotion of another company's products in exchange for a commission when a sale is made.
There are tons of affiliate programs that you can join for free. In fact, Amazon has one of the largest affiliate programs called Amazon Associates.
The way I do affiliate marketing works like this:
Choose an interest (a niche)
Build a website (WordPress will do)
Attract visitors (free traffic from your website content)
Earn revenue (from the affiliate products you recommend)
Affiliate marketing offers these benefits:
Never need your own product
No inventory to buy, pack, or ship
Low-cost to start
No customer service to handle
Unlimited income potential
Location and lifestyle freedom
Here is a screen capture of an affiliate commission I made from one affiliate program:
It is one of my all-time favorite ways to make a steady income online. Of course, I didn't learn how to do this on my own.
I'm all for training programs and thankfully, I came across this one that made all of the difference for me.
By following that training and taking action on everything that I learned, I managed to quit a lousy retail job to work on my website full-time.
No matter if you start an FBA business or not, I think it is smart to have multiple streams of income.
Click the button below to learn more about how affiliate marketing made a difference for me and how it can for you:
Learn how I went from zero to making a steady income online recommending other people's products. Click here to learn how.
Fill out the form below and submit your email address to receive regular information on affiliate marketing starting with my FREE guide.