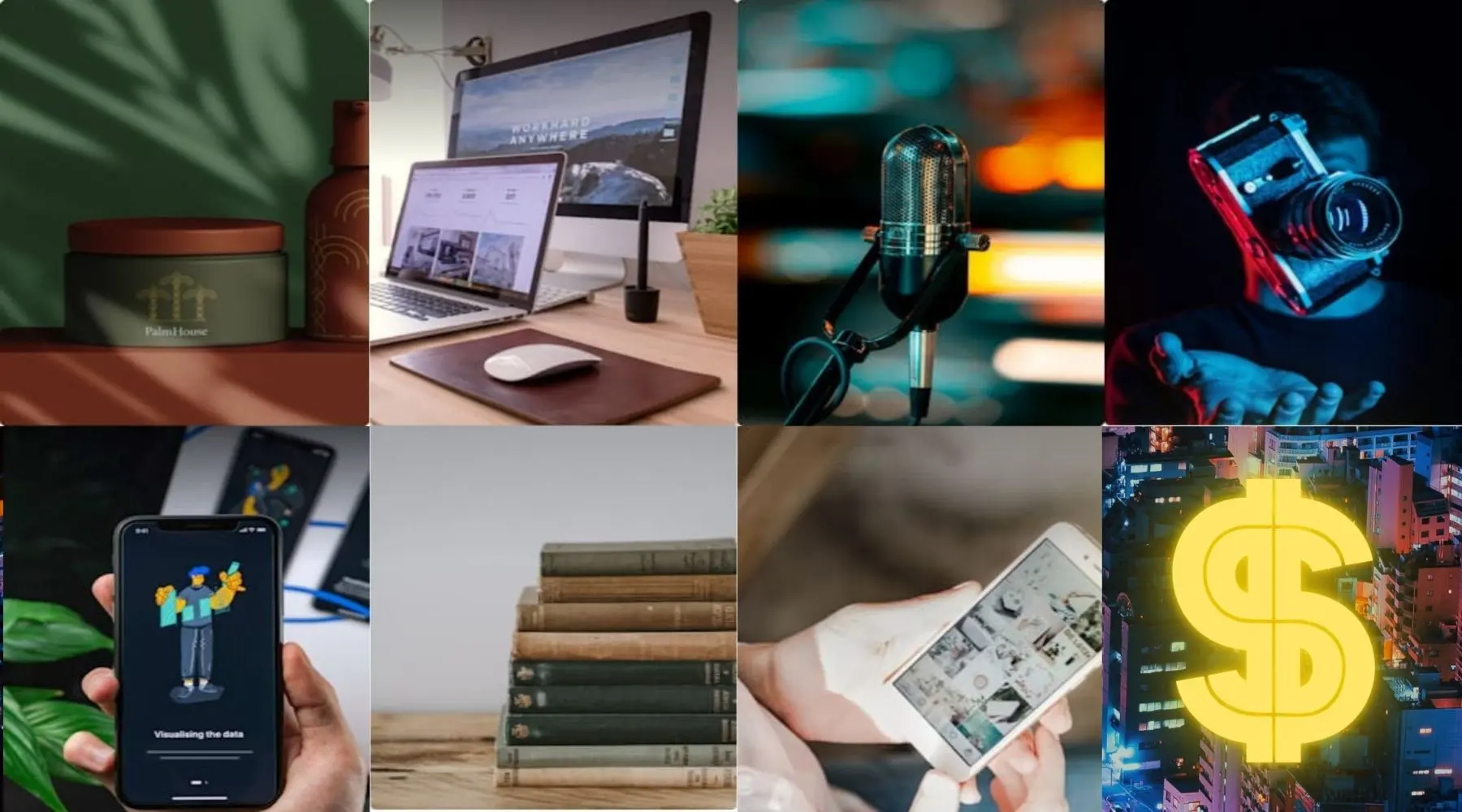 Looking to earn money online in Australia? These are the 9 affiliate programs you need to bookmark.
Sponsored by Fiverr Affiliates. From video editing to SEO and 500+ more services – Fiverr has everything a business needs. And if Fiverr has it, you can earn from it! Up to US$150 for referred first time buyers and up to US$1,000 per sale.
If you're a blogger, an influencer or run a popular Facebook page, affiliate partnerships are one of the easiest ways to make money online. Join an affiliate program, then place revenue generating links into your content for readers to click.
There are many ways to share affiliate content with users. Some tried and tested methods include publishing guides about retailers or their products, reporting on new product launches, sharing links with your email database, creating deals content for big shopping events and promoting brands to your social media followers.
Whichever strategy you end up using, the key is to include external links to a potential financial transaction. Every time a reader hits that purchase button, you get a cut of the profits. And you can let your community know that they're helping to support the content you create.
The Fiverr platform connects businesses of all sizes with skilled freelancers, offering digital services in more than 500 categories from digital design to content creation, music editing, animation, photography and many more. That wide range of services should help you find something helpful to promote to your audience and followers. As a Fiverr Affiliate, you earn commission for any first-time-buyer you refer to Fiverr. Fiverr Affiliates has more than 300,000 registered affiliates which is a testament to its profitability.
How it works:
Join Fiverr Affiliates program via a free sign up form.
Choose the commission plan that suits your needs. For Fiverr marketplace referrals, the Fiverr CPA (Cost Per Acquisition) plan pays commissions between US$15 and US$150, depending on the freelance category promoted.The Fiverr Hybrid plan pays US$10 for all categories and on top 10% revenue share of repeat purchases' value for a year. Rev share here depends on the gig, but the potential goes all the way up to US$1,000.There are other Fiverr products where you will be entitled to a revenue share commission, like Learn from Fiverr, Fiverr Business and Fiverr Workspace.
Recommend the Fiverr services/freelancers/gigs that you love with your audience. There are customised tutorials and linking tools for every channel: websites, Facebook, Instagram and Twitter.
Learn more about the Fiverr Affiliates program.
---
Amazon hosts one of the largest affiliate marketing programs, claiming over 900,000 members worldwide. It allows partners to earn money by recommending products from its marketplace. In addition, you can receive commissions by signing up customers to free trials of qualifying services, such as Amazon Prime.
How it works:
Sign up to become an Amazon Associate.
Recommend products with your audience. (There are customised linking tools for large publishers, individual bloggers and social media influencers.)
Earn up to 12% in associate commissions from qualifying purchases and programs.
---
Similar to Amazon Associates, the eBay Partner Network allows you to earn money by driving traffic and sales to the eBay marketplace. Any traffic that results in a sale can earn a commission, meaning you don't need to direct readers to a specific product to get paid. Your revenue increases with each qualified sale.
How to get started:
Choose an affiliate model on the eBay partner network.
Integrate your mobile, web, and/or social platforms with eBay's global inventory.
Earn money when users buy eBay products through your parform.
---
Commission Factory is an affiliate marketing network that allows you to generate revenue through a wide range of brands. Some of the brands that fall under the Commission Factory umbrella include Catch, Bing Lee, LuluLemon and MyDeal.
There are over 600 retailers on its Factory network, making it easy to promote brands and products that your readers will be interested in. You earn revenue every time one of your readers makes a purchase through a link you shared.
How to get started:
Apply for a Commission Factory affiliate account.
Share your traffic sources with Commission Factory to gain approval.
Start earning commissions for sales you generate.
---
---
If Partnerize's sales data can be believed, it currently pays out over $600 million in annual commissions to affiliate partners. It works with brands like THE ICONIC, Dan Murphys, Marley Spoon, Adore Beauty and Appliances Online making it a good option for retail bloggers.
How to get started:
Fill out the online form to become a partner.
Use the Brand Discovery tool to find brands and campaigns relevant to your readers.
Upon client approval, earn commissions immediately on transactions referred.
---
Impact.com specialises in matching brands to your reader's specific preferences, be it retail, travel, beauty, fitness or financial services. Some of the brands Impact.com works with include adidas, Levis, HSBC, Lenovo, L'Oral, Goop and StockX.
The service also boasts a Product Marketplace that makes it easy to find products to post about. Simply copy and paste a snippet of HTML code to the link you're promoting to enable payment tracking.
How to get started:
Sign up to join Impact's Partner Marketplace.
Start connecting directly with brands through the Impact platform.
Withdraw funds on a set day each month or whenever your balance reaches an established threshold.
---
Awin's global affiliate marketing network is aimed at publishers of all sizes, making it a good choice for bloggers who are just starting out. In 2020 it was responsible for generating $1.4 billion worth of commissions directly into affiliates' coffers.
According to Awin, its affiliate partners get paid faster and more consistently than many affiliate networks. This is because commissions are immediately processed regardless of if there are delays from the advertiser. Available advertisers include Michael Kors, Trip Advisor, AliExpress, The Book Depository, Gymshark, GHD, Etsy and loads more.
How it works:
Join the Awin network.
Connect with the right advertiser brands and start sharing links.
Start earning commissions from sales.
---
With 600+ partner brands, CJ (formerly Commission Junction) is one the world's largest affiliate marketing networks. It claims to host twice as many top 500 US Internet retailers (IR500 brands) as the nearest competitor, with over $16 billion generated annually. The network's staff can recommend brands based on your region, distribution model, vertical and business size.
How it works:
Sign up to become a Commission Junction partner.
Start introducing your audience to relevant products and services.
Get paid in over 150 currencies.
---
In addition to its consumer shopping sites, Rakuten also runs an extensive affiliate network for publishers. Like the other networks mentioned on this list, it allows you to quickly monetise your site's content by connecting relevant brands and products to your readers. Brand partners include ASOS, Chemist Warehouse, HP, Princess Polly, Forever New, First Choice Liquor and lots more.
How it works:
Sign up for a free account.
Link your audience up with popular global brands.
Get paid for monetising your digital content.
---
About affiliate marketing
Affiliate marketing can help you earn money by referring products and services to customers via your blog, website or social media channels. The affiliate site will give you a personalised link to place on your various sites. Every time a sale is made through that link you earn a small portion of the profit.
You can drive traffic through an email list, social media channel or your own website and earn commissions whenever products or services you link to are sold.
[Sponsored]
Fiverr is an online freelance platform that connects businesses with freelance talent.
Fiverr Affiliates
earn for first-time-buyers referred to Fiverr. Up to US$150 for first purchase or up to US$1,000 per sale.
---
Need more money making tips? Check out our complete guide to starting a blog and our huge database of 20 ways to make money online.